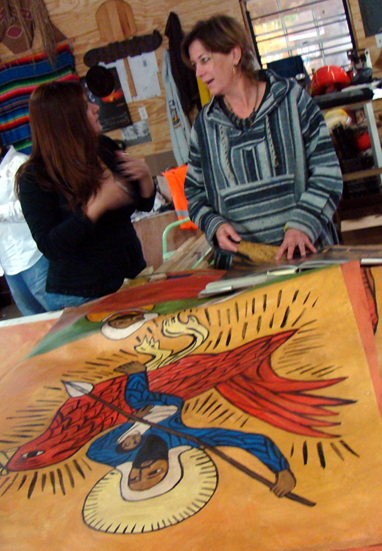 iFest visual arts director Kati
Ozanic-Lemberger (right) shows
her artwork, which will be  on display as
part of the replica of an Ethiopian
 rock-hewn church.  
The lovely folks over at iFest love bloggers. (Maybe it's because they are bloggers.) In fact, they love bloggers so much that they were willing to invite us to a exclusive blogger preview of the life-size replica of a Ethiopian rock-hewn church being built as part of this year's "Out of Africa" theme – despite the fact that, at the time, this blog did not have any posts, subscribers, readers of any kind. That is to say, it didn't actually exist.
Well, thank you, iFest, because the experience was pretty cool. But what impressed me more than the very real-looking, very big Ethiopian church being created out of wood, wire mesh and plaster was the lady who was bringing it all together – in her backyard.
Kati Ozanic-Lemberger is the visual arts director for iFest – which means she not only figures out what kinds of art, artists, performers and personalities you need in order to cram an entire culture – or this year, an entire continent – into four short days, she also creates original artwork to add authenticity to the displays and, when it's called for, builds life-size Ethiopian churches in her backyard.
Luckily, she agreed to answer a few questions about just how she does it.
The iFest features a different country or culture every year. As the visual arts director, how do you go about choosing the art and creating displays that will best represent each culture to people who may be totally unfamiliar with it? What are the challenges? How is the experience of creating the arts framework for China (last year's theme) different from creating it for Africa?
Research, research, research…the library, the internet, talking with members of the local community…when I'm lucky, travelling to the country and seeing it for myself. The  basic themes that I try to cover are history, language, architecture, visual arts, fashion, religious practices and other areas that may be unfamiliar or entertaining to the general public. The challenges usually involve balancing the information on different ethnic groups. The festival usually works closely with the government of the country we are spotlighting; Ministry of Culture, Education, Tourism, etc….with every country there is usually some kind of politcal differences, but we work on putting that aside and focusing strictly on cultural aspects.
China was a daunting task, but it ended up being nothing compared to this year's theme, "Out of Africa: The Three Journeys." We are not just covering "a country," but several chapters of history; the African Diaspora.
In a previous post, we displayed in-process photos of a life-size replica of a rock-hewn church from Lalibela, in Ethiopia – that is being created in your backyard. Can you tell us about the process of creating such a monumental display? And, what will people experience when they walk through it?
One of the real rock-hewn
churches of Lalibela.
I think this is going to be a really cool exhibit…and I will be happy when it is out of my backyard!
There are 12 rock churches in Lalibela that are interconnected by a series of tunnels carved into the mountains. The church that we reproduced is Beta Ghiorgis, the House of St. George. We simulated the effect of the church being carved down into the mountain by building a mountainous structure that surrounds two sides of the church. Visitors can walk through the mountain and see cultural information on Ethiopia, provided by the Houston Museum of Natural Science, and on the outside walls of the mountain will be a photography display depicting various Ethiopian themes.
Inside the church, I did several reproductions of Ethiopian Orthodox Christian murals. There will be a  display of traditional crosses courtesy of the Honorary Consul General of Ethiopia. Incense and audio of Orthodox Christian liturgical chants will give the feel of being in Lalibela.
The biggest challenge in building the church is that all we had to work from was a little photograph of Beta Ghiorgis…but, I think it turned out great.
The view of a rock-hewn church,
from ground level.

photo credit: mrflip
Earlier this month, you were kind enough to give us a sneak peek into a selection of the art that will be on display, which reflected Africa's more recent history. What can you tell me about the "Three Journeys" theme that explores the entire history of the African continent? Will there be displays that are designed to reflect the million-year evolutionary history of Africa, as the cradle of mankind?
The Three Journeys theme starts with Africa as the cradle of humanity with a focus on Ethiopia and the discovery of the fossil "Lucy." The science museum was instrumental in not only bringing Lucy to Houston, but paving the way for the involvement of the Ethiopian government and local community in iFest. All of the educational posters that are at the Lucy exhibit have been reproduced, with the permission of [exhibit curator] Dirk Van Tuerenhout, for my cultural displays. This was a tremendous help and is greatly appreciated! The Houston Museum of Natural Science will also have a tented exhibit onsite where they will have information on the Lucy exhibit and other African educational information.
The first of the Three Journeys refers to mankind originating in Africa and the migration of humans out of Africa. The Second Journey refers to the forced migration of Africans through the Transatlantic slave trade. The Third Journey refers to contemporary Africa and globalization. This will be represented by several exhibits by African countries with communities in Houston.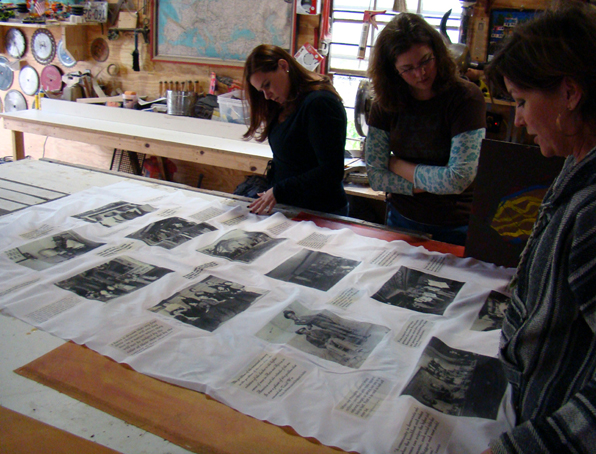 This banner – which displays historic photographs and
quotes from civil rights leaders – will be part of the
displays in the "Forward to Freedom" area of iFest.
You've personally created a lot of the art that will be displayed at the iFest this year. As an artist, what has inspired you most about this year's pan-African theme?
I really enjoyed doing the paintings for Lalibela. They have a definite folk art feel to them and they were relatively easy to reproduce; which is great when time is short. But, I think the part I enjoyed most was putting together the exhibit "Forward to Freedom: Segregation to Integration." I really learned alot about the Civil Rights Movement in the United States and met some really wonderful people locally who gave me their personal insight.
You have some fascinating things planned for the festival this year, but what are you most excited about seeing at this year's iFest?
That's a really hard question to answer. First of all, I want to make sure that everything DOES get done!
I feel pretty personal about every exhibit because every exhibit has meant that I've had personal contact with some amazing people that gave me their input. I'm excited to see what the Ethiopians think of Lalibela and the structure we built for traditonal coffee ceremonies. I'm excited to see how Queen Quet of the Gullah people brings the whole plantation area to life, how Naomi Carrier interprets Texas history with her play "Little Slave for Sale," how the public reacts to how I've interpreted the harshness of segregation, how they respond to "Deep Root:Strong Branch", which shows all that has come out of Africa across the generations….and I want people to have fun and enjoy the music, with maybe a deeper understanding of it's African roots, and have some good food at the same time! Deep stuff this year.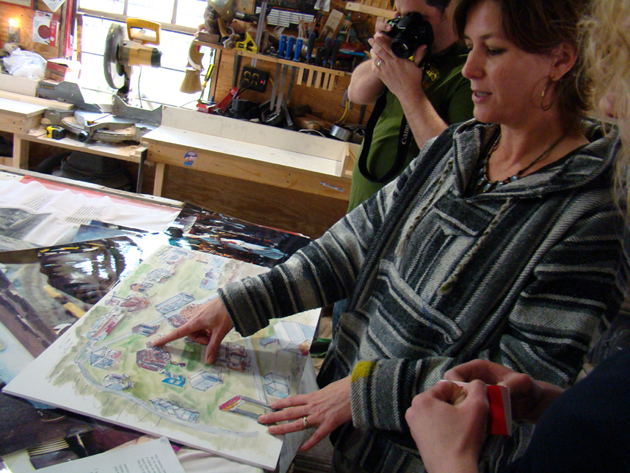 Kati points out the location for the
rock-hewn church on the
plans for iFest's layout.
And, what did I miss? What else can people expect to see and experience at iFest?
I think people can expect to have a really great time this year. We have an excellent music lineup, awesome food and really cool international markets…I'll be shopping the second weekend once I know all of my exhibits are in order! Come prepared to party, but before you go too overboard, take some time and go through the exhibits in the "Out of Africa Zone,"  because there is alot of great information that will give you a broad history on the people of Africa and those of African descent around the world.
If you have kids, which I do, check out the Jamaica Zone in Upper Sam Houston Park. The pirate ship, pirates and belly dancers are a blast…
You can check out Kati's work – as well as the work of amazing artists from all over Africa – at this year's iFest, April 19 – 20 and 26 – 27; hope to see you there!
Kati Ozanic-Lemberger, Visual Arts Director for the Houston International Festival, is a native of Illinois. She attended the School of the Art Institute of Chicago and graduated from the Univerisity of Illinois in Chicago with a Bachelor of Fine Arts and certification as an art teacher in grades K-12, She moved to Houston in 1992, worked as an art teacher, freelance artist and eventually became involved with the International Festival, as site artist, in 1998. She is married to Yolle Lemberger, a native of Austria and head of construction for the festival. They have two children; Sepp, 8 and Lilli, 6.