Today, astrophysicist Jeffrey Bennett is at the Houston Museum of Natural Science. Right now, he's reading his outstanding science book for kids, "Max Goes to the Moon," to a group of very eager 1st graders from Valley Oaks Elementary; tonight at 6:30 p.m., he'll give a lecture for adults, "Beyond UFOs – The Search for Extraterrestrial Life and Its Implications," based on his other, new book.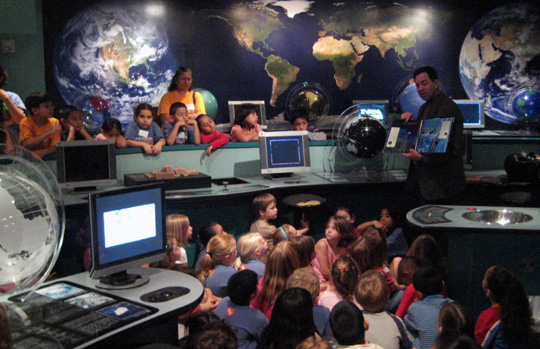 Author Jeffrey Bennett, reading "Max Goes to the Moon," a captivating story for kids, in our Earth Forum.
An astrophysicist who knows how to get kids interested in science? Sounds like our kind of guy. Plus, he was kind enough to offer this guest post for BEYONDbones:
Hello Houston,
It's a great honor to be coming here to speak at the wonderful Houston Museum of Natural Science. I've been to Houston a few times before, but this trip has been especially exciting – I brought my two children (Grant, age 9, and Brooke, age 6) and yesterday we all went to the Johnson Space Center (JSC) along with their cousins (Katie, Carolyn, and Carly) who live here in Houston.
It was a great visit; if you haven't been to JSC, I highly recommend it. I especially loved seeing historic Mission Control, where the Apollo Moon landings were directed. I can hardly wait until people start to go back to the Moon again – and I hope that someday we'll even be able to bring dogs like Max! At the very least, I'm sure we'll be able to go in more luxurious accommodations than the tiny capsule that three Apollo astronauts had to cramp into for the journey to the Moon and back. 
So keep reading and studying, and most of all keep dreaming. Someday we'll all be making journeys to the Moon, Mars, and beyond – and doing it in a world in which all nations will work together to fulfill the destiny of the first Moon landing, which left a plaque on the Moon reading "We came in peace for all Mankind."
Jeffrey Bennett